Aluminium Gutter Guard
Our customers love the Premium Powder Coated Aluminium mesh system that has been designed to fit all Australian roof types including corrugated, tiled, box gutter systems and more. It follows the contour of the roof and blends in to most roofs as it is available in Colorbond© colours.
The powder coated, expanded commercial grade aluminium mesh is the most often used in regions at threat from bushfires. It is compatible with Colorbond, aluminium and zincalume guttering.
Commercial Exposure Grade Aluminium
AS 3959-2009/NSW RFS PFBP-2006 Compliant (BAL-12.5; BAL-19; BAL-29; BAL-40; BAL-FZ)
We also supply Stainless Steel Mesh that meets BAL-40 & BAL-FZ
Available in a Choice of Colours
COLORBOND© approved for use with your roof and gutters
Anti Sheeting - (Rain doesn't sheet straight over gutters)
Perfectly contours the roof
Council Approved
Metal Roofs:
Aluminium Gutter Guard can be fitted to Metal roofs. When fitted to metal roofs our Premium Gutter Guard is installed using Colorbond© clips and trim in the colour and style of the roof - such as if its Corrugated or Trim-deck.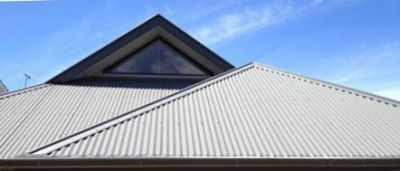 Can you spot it? Our Premium Aluminium Gutter Guard fitted to a beautiful Colorbond© roof - Unobtrusive and aethetically pleasing, our gutter guard is protecting this roof for many years to come.
Tile Roofs:
Our Aluminium Gutter Guard can be fitted to all tile roof types to protect gutters & valleys.

Premium Aluminium Gutter Guard installed on a tiled roof.
Aluminium mesh is able to better contour the roof profile than any other metal based product or plastic. Our aluminium mesh conforms to AS3959:2009 and comes with a fire rating of 0 (CSIRO tested), making it the best product to be used in bushfire prone areas.
Warranty:
We offer a 15 year written manufacturer backed warranty, and guarantee our workmanship for 6 years. If this product fails you we will replace it at no cost to you any time during its warranty period.