Colorbond Colour Chart
All our Gutter Guard can be colour matched to suit your home from a range of Colorbond® colours to match your roof and gutters.
At Premium Gutter Guard and LeafScreener Installations we offer an effective range of premium gutter guard solutions at a reasonable price backed by an extensive 10 to 15 year guarantee on our Australian made products and our installation work.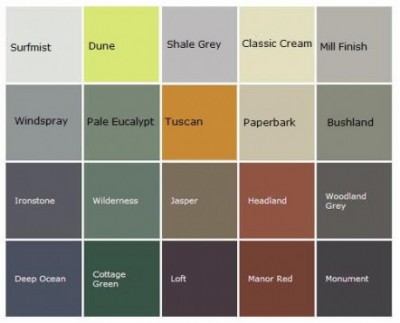 We may charge a small refundable call out fee, come out and get onto the roof, take all the variables such as pitch, substrate (is it tile or metal), valleys and design into account before helping you to make an informed decision about what will be the best for your budget and property.
We are not tied to any one type or brand of gutter guard - so we will install the most suitable gutter guard for your roof and budget. You may choose from:
For more information on the types of gutter guard available, click on the tabs to your left.