FAQ
Will we still need to clean gutters with Gutter Guard installed?
Yes! But, less often. It is still necessary to clean the gutters depending on the amount of debris falling on the roof and gutters. Don't believe the misleading hype, even from well known TV personalities, that you don't need to clean your gutters again! Our extensive experience is that leaves do not just 'blow off' any gutter guard. It may be possible to flush or blow through the gutter guard if there is only a light build up. We could do this for you in a safe manner. In most cases though we prefer to blow out or hand clean the silt on a dry day (Don't worry, we will clean up perfectly afterwards!).
Why is this a better method than just flushing? Flushing heavy silt, moss or debris often blocks down pipes, and worse, could block the storm water pipes underground requiring the services of a plumber with an eel to unblock – very costly. With blowing or cleaning out by hand, none of those dangers exist.
So why should we install Gutter Guard?
The real purpose of installing gutter guard is to ensure that rain water flows off the roof, along the gutter and down the down pipe and safely away from your property. If the gutters are dirty or blocked, the rain water will leak in, probably overflow the gutters and leak back under the eaves causing internal water damage to ceilings, walls, and precious household contents.
Why it Works: Notice below how debris has built up on top of the Gutter Guard - without Gutter Guard fitted all that debris would be blocking the gutters and down pipes! With Gutter Guard fitted, water will still be safely draining away underneath all that debris and your precious household contents are safe.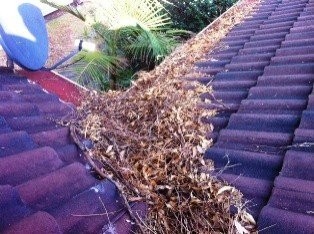 After a quick cleanup, the gutters and roof look as good as new.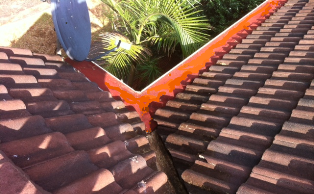 See the numerous other benefits of Gutter Guard on our home page.
Plastic vs Metal - Which is Best?
The first comparison is easy: most plastic and nylon gutter guards are a serious waste of money. But Virgin (Not Recycled) HDPE - known as Polyethylene - is a superior high-grade product which is UV and fade resistant, of food grade quality, and is water, salt and corrosion resistant. We believe a good quality Polyethylene is better than any zincalume, steel or colorbond mesh as they all rust quickly.
Our '2D' HDPE mesh weight is a heavy duty 750gram/m2 and now has even more enhanced ability to collect rain water and prevent rain sheeting over the gutter.
However, our powder coated Aluminium mesh can't rust, so our Aluminium will outlive the Polyethylene mesh long after the 15 year warranty is up. Aluminium mesh has a hole size of 3.5 mm and has a mesh weight of 500 g/m2. The strand width is 1.0mm.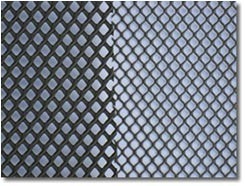 Both types will still require cleaning - here, Polyethylene (left) wins. It is easier and cheaper to lift and clean under, and keeps its form better than Aluminium (on the right) or metal gutter guards which could deform if the gutter cleaner is a cowboy. (Get us to clean them gently!)
If you live in a bushfire zone, then you really have no choice but to use Aluminium with its zero flammability index. Polyethylene will still provide protection from heavy debris build up, but may not be allowed by your council.
Let us help you make the right choice by taking all these factors into account by giving you a quote and inspection for your properties specific and unique needs.
What types of Gutter Guard don't work? Six Reviews:
In our long experience, and with our many thousands of customers all over Sydney, we observed some types of gutter guard that just dont work in our opinion, and we are apologise if we hurt the feelings of those who install them:
Fine screen metal mesh. It doesn't matter what it's made of, we have found that it's simply not rugged enough for Australian conditions or Australian birds and wildlife. It loses it looks quickly, and rain sheets off it.
Stick down self adhesive mesh. You can't lift it to clean underneath, so it has to be reapplied or siliconed down and looks terrible in a short period of time.This type is usually designed and installed by men who have never had to try and clean underneath or repair/replace the gutters they have been stuck to.
We don't prefer Metal over Polyethylene. By metal we include stainless steel, copper, aluminium, and Colorbond steel. These are generally excellent products and we install them regularly because they are long lasting, fire retardant and look great. But, as described above, they are very difficult to lift and clean underneath – even though we send out reminders, you may forget to clean regularly. We have to unscrew and gently lift to clean underneath - but in time they may bend, crease or become 'lumpy' with continuous lifting and cleaning. If we regularly blow or flush out the gutters we wont need to lift them to clean underneath. It costs you more to have your gutters cleaned when we have to lift metal gutter guard to clean.
Easy Flow type gutters. These are strange gutters that have a cover designed on top to prevent anything from entering the gutters. Unfortunately, that often includes rain water! Gutters are designed to carry water safely away from the roof and house to prevent causing damage to the foundations, staining to the exterior walls and mossy pathways. Most Easy flow type gutters cause too much rain to sheet over the gutter onto the path or garden below in even the mildest rain, so why have gutters if not to carry away water?
Bristle type gutter guard. This type looks like a bottle brush. It's also known as Hedgehog gutter guard. Just a few leaves stuck in brush though, and your gutters are blocked and overflowing.
Metal gutter guard plates that are fitted over the gutter but under the roof tiles. This type is easily distinguished as it is a long lightweight plate with long slots cut in and is popular on the DIY market. This type exhibits the similar problems to Easy Flow type gutters as discussed above.
What is the best Gutter Guard for my Roof?
That depends on your roof and budget. For this reason we wont give you a 'guesstimate' on the phone. We will come out free of charge, get onto the roof, take all the variables such as pitch, substrate (is it tile or metal), valleys and design before helping you to make an informed decision about what will be the best for you. All our Gutter Guard can be colour matched to suit your home from a range of Colorbond® colours to match your roof and gutters.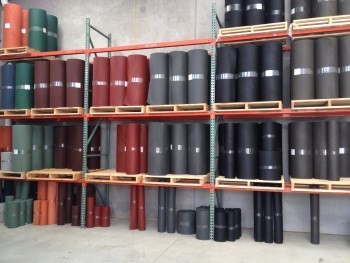 How long does Gutter Guard last?
Both of our Premium Gutter Guards - Powder Coated Aluminium and Premium Polyethylene are guaranteed for 10 to 15 years respectively.
Will the Gutter Guard mesh keep everything out?
Our products will keep up to 95% of leaves and debris out of your gutters. Even the majority of Pine needles and Jacaranda will be kept out. The little that gets through may be washed away when it rains. The rest can be cleaned out, see below.
How long will it take to install?
Weather permitting, we like our Gutter Guard installations to take about 1 day. The bigger the job, the more men we will put on it to ensure you are not inconvenienced by the work.
Will the Polyethylene or Polymesh deteriorate in the sun?
Yes it will in time – but only long after the 10 year warranty is up! HDPE Polyethylene Gutter Guard is specially designed and manufactured with virgin material and includes UV stabilisers and UV absorbers to ensure that the mesh will last up to 10 years without breakdown in the Australian sun - which is as long as the life-expectancy of most Colorbond metal gutter guard.
The HDPE gutter mesh is manufactured to precise, proven specifications to ensure it remains unharmed by the harsh Australian climate. The diamond shaped whole size of 3.8mm is optimum for excluding debris and vermin but allowing water to pass through into the guttering. The mesh weight is 650 g/m2 and strand width of 2.25mm.
Are your products Environmentally friendly?
Yes all our products are 100% recyclable.
Will your Gutter Guard work on all roof profiles?
Our Gutter Guard products will work on most roof substrates such as all tile, metal, corrugated, Trimdek, Bullnose and Cliplock roofs. We use specially designed Colorbond® colour matched saddles and trim to ensure a snug, smooth fit that gives total protection to your gutters and roof.
Can you cover all types of gutter?
Our products can protect most types of gutters and roof valleys. We also custom make various gutter guards to cover box gutters, rain heads and even over large areas such as drainage systems on large flat roofs.
Why do you charge a Call Out Fee?
Our services are in great demand. Our team are all highly qualified and experienced professionals. Every kilometer and minute costs money, so if we offered all our services at no charge we would be out of business pretty soon!
Where necessary therefore, we charge a minimal call-out fee which will be subtracted from the cost of the job if approved anyway. So it doesn't actually cost anything, unless you are just collecting quotes...